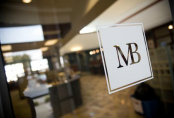 About Us
Midwest Bank — Banking Your Way
Midwest Bank is a rapidly-growing, locally-owned, independent bank with offices located in West Central Minnesota.
Through our rapid growth, we have developed the financial and technological resources to meet the needs of our small and large customers alike.
Being locally-owned, we have a vested interest in seeing our communities thrive.
Being independent allows us to provide a banking atmosphere that our customers appreciate — a responsiveness not matched by our competition, decisions made by the people you talk to rather than a committee in a distant city, and fees that are considerably below our competition.
These items, combined with top-notch customer service, make us believe that we offer banking the way you want it — "Banking Your Way."