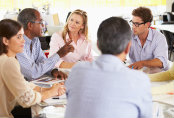 Career Opportunities
Midwest Bank offers a friendly, team-oriented work environment with competitive compensation and benefits.
We hire people who will offer top-notch service to our customers — who provide service that exemplifies the "Banking Your Way" mission.
Current Opening(s)
Part-time Personal Banker - Detroit Lakes, MN Branch
Responsibilities of the Personal Banker include promoting, opening, and supporting retail and commercial banking accounts, products, and services.
The requirements of this position are excellent customer service, communication, and interpersonal skills, superior organizational and multi-tasking skills, and the ability to work in a fast paced environment. The ideal candidate for this position will have at least one year of related banking experience.
This is a benefited, part-time position which will normally work 32 hours per week.
To Apply:
Please email your resume and cover letter to hr@midwestbank.net or mail to Midwest Bank, Attn: HR Manager, P O Box 703, Detroit Lakes, MN 56502-0703 or complete and return a Midwest Bank employment application form, which can be obtained by emailing hr@midwestbank.net.
Midwest Bank is committed to providing equal employment opportunity to all job seekers according to all applicable equal opportunity and affirmative action laws and regulations. Qualified individuals with disabilities/disabled protected veterans needing alternative means of applying for our positions should contact our Human Resources Manager at 218-847-4771.
EOE/M/W/Vet/Disability