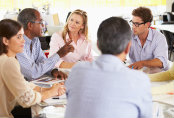 Career Opportunities
Midwest Bank offers a friendly, team-oriented work environment with competitive compensation and benefits.
We hire people who will offer top-notch service to our customers — who provide service that exemplifies the "Banking Your Way" mission.
Current Opening(s)
Office Administrator - Detroit Lakes Branch
This position will serve as the initial contact for customers providing a favorable first impression of Midwest Bank. Duties of this position include answering incoming phone calls, greeting incoming customers, and efficiently directing both calls and customers to the proper bank departments. This position will also provide general office support in a variety of clerical activities, projects, and event planning. The ideal candidate for this position will have prior experience working in customer service and operating a multi-line phone system. In addition, critical skills of this position include excellent communication and organizational skills, the ability to work in a fast paced environment, and proficiency with Microsoft Office products.
Applications for this position will be accepted until Monday February 15th, 2016 . For consideration, please complete and return a Midwest Bank employment application form, which can be obtained by emailing hr@midwestbank.net or email your cover letter and resume to hr@midwestbank.net or mail to Midwest Bank, Attn: HR Manager, P. O. Box 703, Detroit Lakes, MN 56502-0703.
Midwest Bank is committed to providing equal employment opportunity to all job seekers according to all applicable equal opportunity and affirmative action laws and regulations. Qualified individuals with disabilities/disabled protected veterans needing alternative means of applying for our positions should contact our Human Resources Manager at 218-847-4771.
EOE/M/W/Vet/Disability