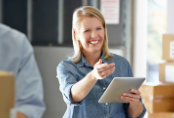 Customer Testimonials
Minske's:
Making home (mortgages) more comfortable.
Manufacturing Solutions of MN:
How much money? How fast?
Sherbrooke Turf:
The grass isn't greener.
LaValley Industries:
What makes a long-distance relationship work?
View More Testimonial Videos
How accommodating? Scott Mehlhaff and Chris Holland-Mehlhaff, owners of The Lodge on Lake Detroit, say the kind of attention that helped them build a better hotel is helping build a better business environment--for the entire area.
Caulfield Studios owner, Craig Caulfield, says he appreciates a relationship that delivers same-day lending answers, money-saving ideas and low service fees--and especially, genuine approachability.
Bergen's Greenhouses owners Chris and Mara Bergen benefit from local lending decisions, faster response times and banking their way. All of which helps their business grow.
Banking their way at Midwest Bank has made the difference for Matt and Skye Bjerke's farming operation. That helps to keep this third-generation operation farming.
Foltz Trucking's owners Frank and Ken Foltz benefit from local lending decisions, faster response and customized solutions. All of which helps them keep the wheels rolling.
Lakeshirts co-owner Mike "Hutch" Hutchinson benefits from customized solutions and faster response time on important decisions. That helps him deliver on time.