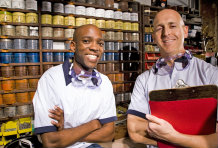 Small Business Loans (SBA)
Summary

Midwest Bank partners with the Small Business Administration (SBA) to offer loans specifically tailored to small businesses. Enjoy lower down payments and extended terms, with funds available exclusively to small businesses and small business owners. Plus, talk to local lenders with trusted business experience and understanding.

Small Business Loan (SBA) Details:

Exclusive to small or growing businesses

Competitive interest rates

Lower down payments

Extended terms available

Loans guaranteed by the U.S. Small Business Administration

Flexible terms that makes sense for your business

Local business experience

Personal, professional, responsive service throughout the loan process!